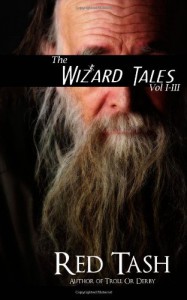 This review was first posted on Northern Plunder, if you want to see more reviews please click here.
The Wizard Takes a Holiday
The shortest and sweetest of the five tales, I squee'd with delight at this one. The Wizard takes a holiday, and relaxes at a drive-in movie (one of these has actually opened up not far from me lately and I really want to go!) but relaxing doesn't go quite as planned thanks to a snotty child and a baby troll. This is probably the shortest of all the stories but it was a great introduction to the Wizard and I loved it. I gave this story on its own 4 stars.
The Wizard Takes a Fitness Class
I would have to say this is probably the funniest of them all. This time the Wizard is going about his day to day life when he bumps into an old acquaintance - his arch nemesis! Again I can't really say much without giving a lot away but just because they're nemesis' don't expect a massive fight off - nope - instead we get dancing Zombies, a fitness class and an encounter from a Demon. It was fast paced, bizarre and a lot of fun. I also gave this story on its own 4 stars.
Lucian's First Trick
Unfortunately I have to say this was probably my least favourite of the stories, but I still enjoyed it a lot. Here we meet Lucian on Halloween and we see him again in The Wizard Takes the Cake, he accidentally gets taken into an old ladies house where a lot of weird stuff happens, and they meet again for a trip to the grave yard! It was creepy and a bit odd - ew shrunked heads! I don't know what to say because spoilers but it was a good read and definitely very different from the previous story in the book. I would probably give this one 3.5 stars.
The Wizard Takes the Cake
Oooh this is my favourite of the three, probably because its the longest. I have a love/hate relationship with short stories because I really enjoy them but then when it comes to reviewing them I'm stuck for words! Any how this one is about the Wizard and Lucian as they attend a wizarding wedding and our lovely Wizard has a flash back. I really enjoyed this part because we got to know a lot more about him and to see how he himself reflected on his mistakes, also the seriousness of the flashback and the happiness of the wedding was a nice contrast and I think it worked well in the story! This story alone gets 4.5 stars.
A Laurents Country Landfill Christmas
TROLL OR DERBY SHORT STORY OMG YAY. I hadn't read this and it was really sweet, about Harlow organising a Christmas get together with Deb and her family and a few other characters from the book, I just loved it and all the magical happenings. I really want to visit their market and eat all their food even though it'd be bad for me I don't care it sounds great.
Overall I gave this book 5 / 5 stars because it was a great combination of stories and the extras were lovely too and not at all a let down! I'm sorry I couldn't write more without giving anything away but thats the trouble with short stories I guess.